We're pleased to offer the following services at Silicon Valley Pet Clinic:
General Services
Reproduction Processes
Vaccinations
Pet Surgical Services
Radiology
Pharmaceuticals
Pet Dentistry
Dermatology
In-house Lab
Emergency Vet Services
Sonography-Ultrasound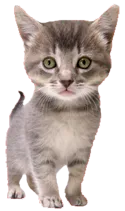 Emergencies are accepted anytime our clinic is open. If you feel you have an emergency with your pet, please call us or come in immediately. If possible it is best to call before coming in so that a staff member can advise you on your particular emergency.
We have a veterinarian and a group of technicians on duty seven days a week trained and equipped to handle any urgent care situations. Usually an emergency team consists of at least one veterinarian and several technicians working together to save a pet's life. Emergencies can be things such as accidental ingestion of rat poison, hit by car, and chocolate ingestion. We are also available for urgent care when the condition is not life-threatening. If you feel your pet needs to be seen before you are able to get an appointment, our veterinarian welcomes walk-ins. When you arrive, our receptionists will be able to check you in accordingly.
Furry Friends We Cater To

Canine
Feline
Lagomorph (Bunny)
Rodents(Guinea Pig, Rats, Hamster)